Hopefully, this will be the start of our regular, quarterly medical missions.


So despite fever and coughing fits, I had no choice but to push through with the mission, forging past the charcoal fumes of the Ulingan..

As I am writing this my coughs have worsened and I haven't been sleeping well for 2 days. But knowing that I had been an instrument in helping a lot of lives last Saturday makes this minor setback oh so worth it. :)



This is the first time I commissioned the help of my old org in UST, the UST Medical Missions Inc., to hold a medical mission in our community at Ulingan.
After med school, internship, residency and fellowship training, I found myself as a consultant, with more free hours to spare than what I've gotten used to in the last decade of my life.
As a result, I had been getting to know myself again, reconnecting with my hobbies B.M. (before medicine), and at the same time trying out new things. However, come June through July, I had been swamped and stressed out by my duties in the hospital, that suddenly as a form of relaxation, I found myself enjoying non-pathology books again (with the motherload of free ebooks in the greatest invention on earth, the iPad) and became sedentary (hahahaahaha). I found myself wanting to read a book more than exercising my butt off.
But my body, which has gotten used to a somewhat active lifestyle, had been complaining and has been aching a lot. Even my masseuse had been noticing more frozen nodules that hadn't been there before.
And then last Monday, I had been thoroughly shaken off my complacency by Gid, as we planned out our sched in the coming years. It's so exciting, and I know I have to train again.
So this week, I finally heeded my friend Ninay's invitation and tried out Plyometrics, and it was so awesome! I could feel my muscles shouting in exaltation :)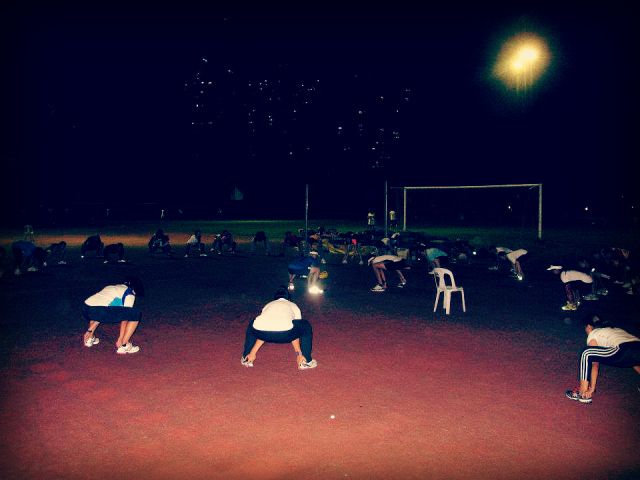 I also used our treadmill at home again, and swam again.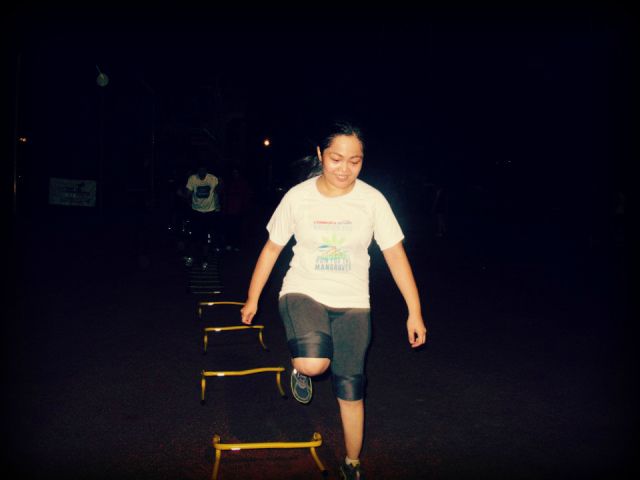 Oh God look at those thighs
Not bad for my first week in getting back to shape. Hehehe.
And now after this entry, I'm looking forward to finishing a nice detective novel by James Patterson, because the call of the bed on a rainy, Saturday, is just too powerful to shake off. HAHA
It's been a steady and fulfilling year for me.
Friday: Watched God of Carnage at RCBC with Van and Kat. Despite the terrible traffic, I was able to make it (barely). As expected, Lea's and of course, Menchu's performance were superb. Kaya lang it was a one-act play lang pala and I spent more hours in traffic than the show. We had a nice nightcap at Starbuck's na lang to catch up on what's been happening.
Saturday: Had to renew my BLS training and caught up with Jeff, the chief hospital resident during the time I was assistant chief hospital resident in my final year in residency.
Sunday: I was able to watch Drum Tao at Newport Theater with Ninay and Van. Man, those Japanese really know how to use their instruments!! I was blown away by the performance and a little bit saddened why Filipinos can't produce something as original as the Japanese's.
We then surprisingly collided with our friend Kat's ex-bf, on our way to Kat's husband's birthday that night. Talk about chance encounters! HAHA. I even jokingly invited Sherwin to Coo's birthday. HAHA.
Sunday ended hanging out in Coo's place in Global City as we celebrated his 33rd birthday. Man oh man, we are getting old. :)
--

July 13 to July 15, 2012

Had a nice weekend to catch up with med friends.
I went with Zer and Ninay (and 2 of her friends who didn't have any idea what Ciudad's music was). It's so nice to be part of the local music scene once more, but as proven time and again, I get sick after exposure to secondhand smoke.
But as always, Ciudad delivered a pretty solid album, and I'm doubly happy to finally buy the album I missed last 2010 while I was training abroad.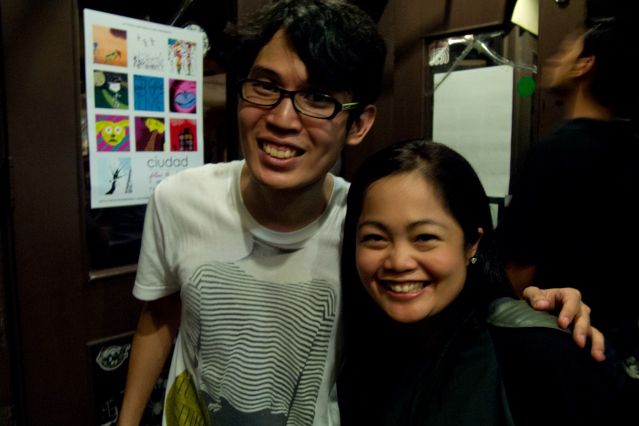 With Ciudad's frontman, the music genius, Mikey Amistoso
Yay! After 5 years, I finally was able to watch my favorite Filipino band, Ciudad, in their album launch at Route 196.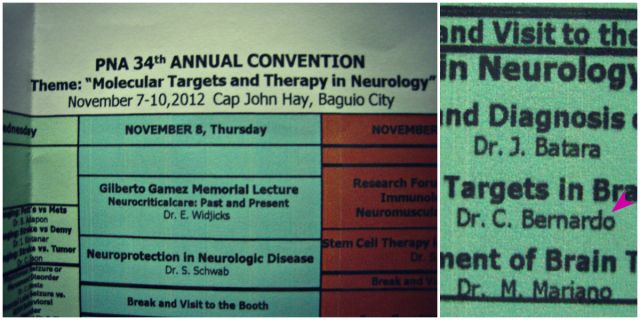 When I was invited by the Philippine Neurological Association a couple of months ago to talk in their convention in November, I didn't know it would fall on my birthday week.
And I didn't know the venue would be in Baguio.
:(
Oh well!! I hope I get to climb that weekend as well.
:(
This particular peptalk was so memorable to me because it was so organized and the coordinator made sure we got to the venue on time. Yun pala the audience consisted of the CEO and other officers so I got nervous a little bit.
After the talk I was given a plaque of appreciation (nakakatuwa!) and a small "token".
Wala lang. Not having patients means less gifts received so it's pretty exciting stuff when I get one. O divah! Perfume! :)
Apart from being the head of point-of-care testing, I also head the blood donor center. And one of my responsibilities (when my sched permits) is to give "peptalks" about blood donation to companies and schools.
One thing I realized during this climb is: I have to train.
If I plan to climb more mountains and reach greater heights, I have to train.
petrified crickets
On the first day, my right foot landed in a wrong way after I scrambled for balance in a slippery and narrow rock trail because I got surprised after I hurt my left hand while grasping at plant roots. As a result my right ankle cramped so bad that I had to rest a bit.
nature's work of art
The trail on the first day was relatively easy but because it rained heavily, it became slippery. I got so tired though, because I carried my own pack. Ang kapal kasi ng mukha ko, hayan, unnecessary parusa. :)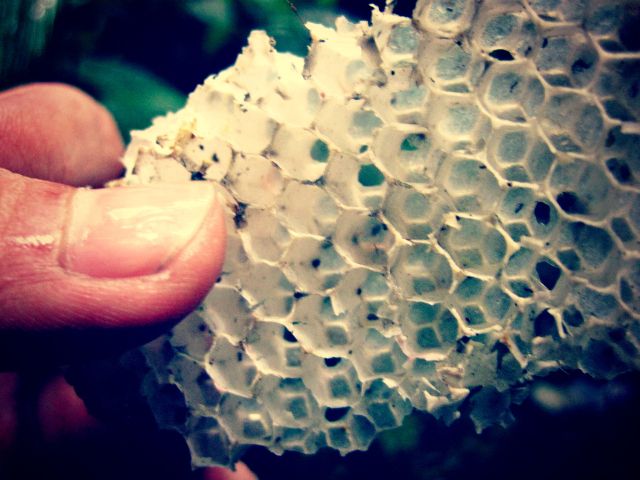 But the trail was so interesting and studded with a lot of surprising stuff that I haven't seen anywhere else.
ladybug!!!
On the second day, after a nice, uninterrupted sleep, I woke up feeling recharged and ready to take on the last couple of kilometers to go to reach the summit, little did I know that those last few kilometers are epically hard!
watching the sunrise from the trail, still a long way to go!!!
Because it was closed for more than a year due to volcanic activity, the cogon grass surrounding the trail was too unkempt. The trail was steep and slippery so it was almost a blessing that the cogon grass were there. I didn't bring loves with me so I got a lot of cuts on both of my hands, and face.
I had a difficult time, mostly because my untrained cardiac and skeletal muscles were failing me.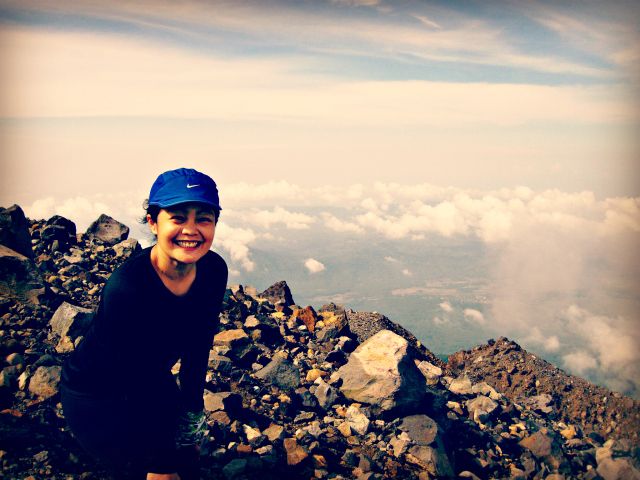 those seemingly stable rocks are deceiving!
A couple of meters from the summit, near the crater, I had to pass a steep array of loose rocks that spewed from the crater. I fell almost a foot down, twice! My arms flailed as my hands tried to grab any rock I could. I stopped to cry in fear first, then asked myself if I really wanted to continue ahead. The fog was thick and the crater looked ominous. But the summit is near, I could see it!
So I dried my eyes and continued climbing over the unstable rocks, and finally reached the summit of Mt. Bulusan.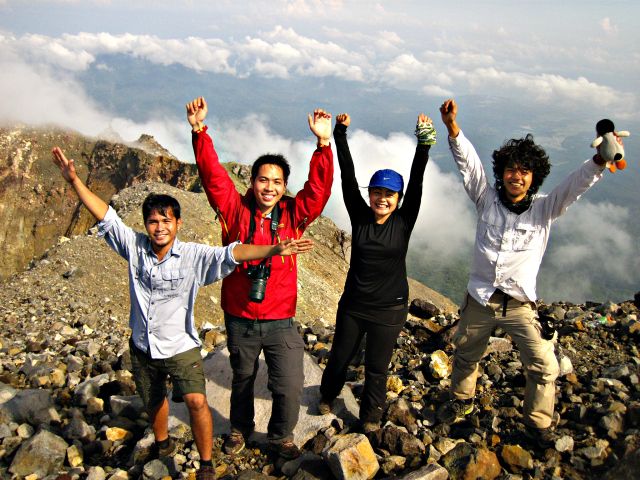 finally at the summit!!!
It was one of those priceless moments where you're glad you still went out on a limb to pursue something when all you wanted was to give up. The view of the crater from the summit was really an amazing sight to behold, and I am grateful that I am blessed with the will and the courage to move on.
This climb was really one for the books! There were a lot of firsts in this climb. I padded across Bulusan lake before the trail commenced, got lost with a guide who didn't listen to me, witnessed first aid administered on an injured ankle on the trail, and saw how cogon grass can torture unprotected arms and legs.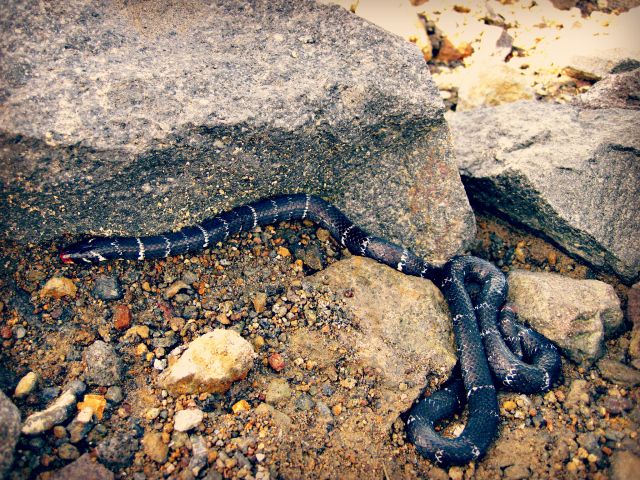 And as always, difficult climbs are my favorite ones, when I had the time to reflect upon the experience.
I am once again, grateful to witness how beautiful and vast this world is.
--
Bulusan Volcano
1,565 MASL
June 23-24, 2012
When I got invited to climb this recently opened volcano, I didn't even hesitate to answer, "YES!", even though I don't know anything about its terrain or how difficult it would be to go there.
No grand plans for the weekend. Except to go to Manila Zoo for a U! Happy outreach for our Ulingan kids, attend the birthday party of a college friend's son, watch Cynthia Alexander's send-off gig, and go to my med friend's son's post-baptism party.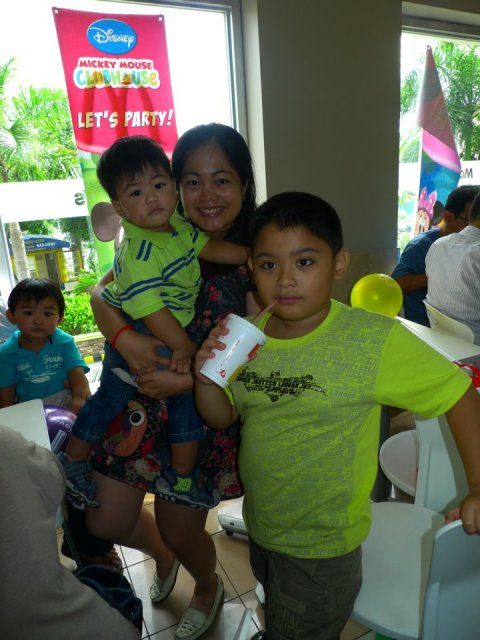 First plan was foiled because the car won't start and it was raining so hard. But the rest went on as planned :)
It's so nice to see Aga and her two, adorable kids. It was also nice to talk to her brother, Nats, with a kid of his own, and already an orthopedic surgeon specializing on.. hands.
A funny thing happened in Cynthia's gig. I saw Carla and Joe! HAHA. It's surprising to see hiking buddies in the lowlands, and to realize there are more things you have in common besides mountains.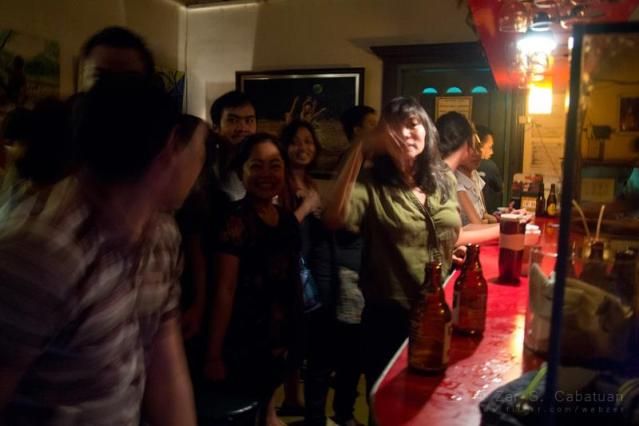 I am such a fan girl
And finally, to meet my classmates from med school, after so many years, was so priceless!
Lesson learned: sometimes it's nice to be in the lowlands when the weather is bad :)
--

June 16-17, 2012

For a change!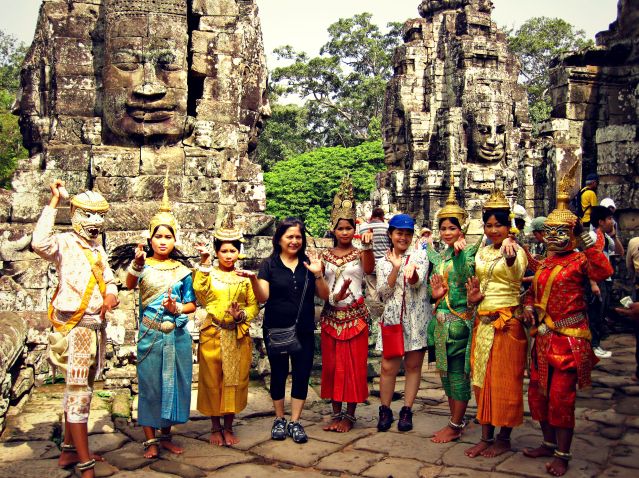 This was our itinerary:
Day 1: Killing Fields - War Museum - Bakong - Preah Ko - Little Angels - Lolei - Phnom Bakeng

Day 2: Bayon - Elephant Terrace - Leper King - Phimeanakas - Bapoun - Angkor Wat

Day 3: Banteay Srey - Ta Phrom - Landmine Museum

Day 4: Kulen Mountain - Beng Mealea

Day 5: Tonle Sap River
In this country plagued by a terrible war in the recent time, lies a past so rich that you can't help but get overwhelmed from everything you're witnessing.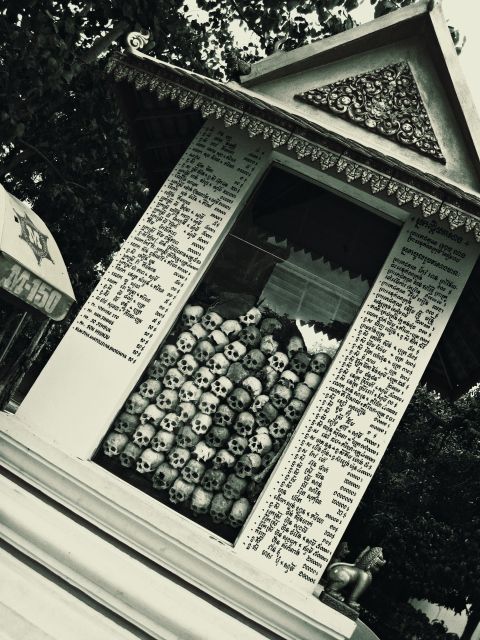 Our tour comprised of seeing how war in the recent times affected the nation, and at the same time to soak on Angkor's magnificent temples.
Undiscovered landmines still pose a hazard to farmers. Various museums showcased the ill-effects of war.
If I was well-versed in Buddhism or Hinduism I would've appreciated the temples more. It was just an amazing experience to finally witness what our ancestors did in the past.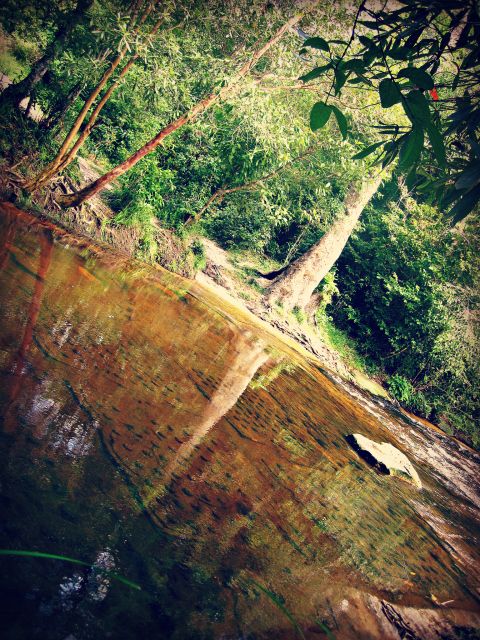 Each temple paid homage to whoever God or King that the present king believes/admires. And the carvings on the walls were authentic proofs about the sentiments of the kings.
My favorite temple, surprisingly was, Beng Mealea. It is an unrestored temple 80 kms away from Siem Reap. There you would see nature's superiority to any man-made structure. Trees grew from sandstones, roots wrapped around pillars. It had a nostalgic feel that I didn't experience in Angkor Wat.
Our visit to the Little Angels orphanage was particularly touching in that, we were asked to pose with the kid who did the stencil artwork from a cowhide that we bought. Apart from their studies in the morning, they were taught how to make Khmer handicrafts and artworks, all of which are really cool.
I'm happy that my mom had a great time in this trip. She was so happy that she booked a trip to HK, with or without me. HAHA
--

Siem Reap, Cambodia
June 8-12, 2012

I finally was able to treat my mom to an all expense paid vacation in Cambodia for 5 days. And boy was she happy.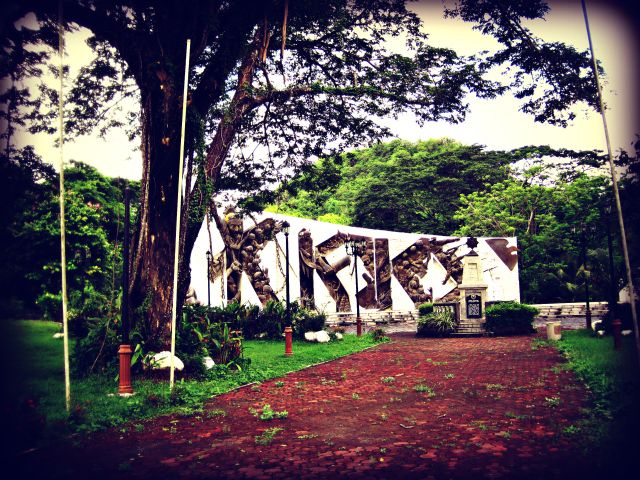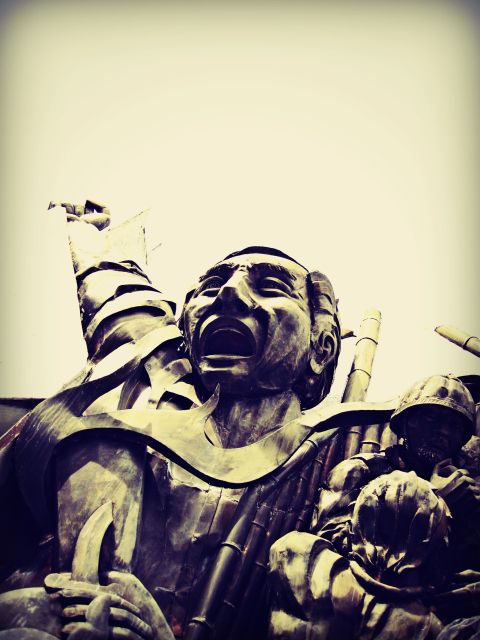 It was surprising to see the Bonifacio shrine atop Nagpatong and I had a quiet moment to contemplate how tumultuous politics is, even in the time of our so-called heroes.
From Nagpatong we went to the jump-off point of Buntis. We estimated a 3-hour trek so we didn't bring packed lunches, but later on we found ourselves still walking after 4 hours.
We finally confirmed our suspicions that the "guide" didn't know the trail when we passed by an uncleared trail. We just decided to go back and when we were nearing the jump-off point, we saw a couple of "tambays" in a shed and they confirmed that we were brought to the wrong trail.
But I was with a couple of enthusiastic people, and our spirits weren't dampened by not reaching the summit. We all still enjoyed just hiking through the woods, communing with nature, crossing creeks, and sharing stories. :)
Plus it was my first time to witness the mating season of frogs! It was scandalous!!! They were just everywhere!
--
Mt. Buntis and Mt, Nagpatong
June 3, 2012
Maragondon, Cavite
For Farah's despedida hike, we decided to go to Maragondon, Cavite to visit Mt. Buntis and Mt. Nagpatong. Two mountains with historic significance. Mountains where brothers Andres and Procopio Bonifacio hid and where they were eventually killed, by Magdalo soldiers sent by General Aguinaldo.